2014
Hello and Happy Holidays to you all,
It was a very busy, fun month for Max and Mike! The first stop was at the Stewart compound for the Freestone ride day. Max had a blast there and was able to practice in a different kind of dirt/sand. He was also able to hit some big jumps that nearly gave me a heart attack when I saw the video!! They went to another track they called Moonraker, It was the best and most fun practice track that they had ever been at.
Then on to Mini O's, It was the first time that Max had been there and he had a fun time. His supercross results were a 2nd in the 85 9-11 mod class and a 3rd in the limited class. The Motocross results were a 4th in the mod class and a 6th in the limited classs. He also got 3rd in the Divisional Olympiad! It has been a while that he has had a full gate to compete with and he enjoyed the competition. Overall, it was a great week! video – photos
The Arizona Open was a little warmer and a little more muddy. I was able to fly in for the weekend and watch Mike and Max race. Max had a heck of a time with his mod bike that weekend. Almost every race something happened to get him a dnf. It was very frustrating but Max handled it well and even clapped for his competitors/friends who were racing. I was very proud of him! His stock bike was on point and he won his 85 9-11 limited class with a 1,1,1 . Max even had the funniest podium speech quoting Ricky Bobby. The announcer knew he had difficulties and asked about it, Max said "I feel like Ricky Bobby, if I wasn't first, I was last".
I know this is long, but it was a memorable month of good, fun racing!
Our next adventure we will be going to California during Christmas break and practice.
Thank you very much for all you do for Max. We a very fortunate to have an incredible list of sponsors who believe in him and support him.
Happy Holidays,
Michelle Miller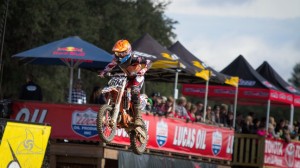 MAX Quicktime or Windows/Download/Cell
MIKE  Quicktime or Windows/Download/Cell
We had a great time at the Dodge Nationals last week!  It was good to see all of our moto friends and families.  It was Max's first race back with only four weeks of practice.  We were very happy that he was on the podium twice with a 2nd in the 85 7-11 mod, a 3rd in the 85 7-11 stock and a 4th in the 85 7-15 open.  It was a fun week of racing and getting some gate time. 
Now, its back to school and getting practice in for Mini O's!!  We have never been back to Mini O's and we are very excited to go. 
We also want to thank everyone for their support and help.  We are very grateful that we have such awesome sponsors!!